NEWS
Groundbreaking Ceremony for RMH Fukuoka
July 04, 2014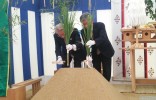 On Thursday, June 26, a ceremony was held to pray for safety in the construction of the Fukuoka House, the 10th Ronald McDonald House in Japan.  People involved in this project from the House owner Fukuoka City Hospital Organization, the Ronald McDonald House Charities, and a construction contractor got together to pray for the safety in the construction site.
The RMH Fukuoka will be built in a new site to provide accommodations to families of children hospitalized in Fukuoka Children's Hospital along with the relocation of the hospital.  It will be constructed with strong desire of the local community.  A fund-raising committee was established to raise a half of its construction cost by donations and called for donations in many fields. The committee collected a total of ¥148 million so far against its target amount of ¥200 million.
At the ceremony, Director Kenji Takenaka ofthe Fukuoka City Hospital
Organization said, "Families' support is essential for children's medical treatment.  I am very pleased to see such a big House constructed and truly grateful to Fukuoka citizens and people involved in medical care for their generous donations.  I hope people involved in the House's construction to build a great House on the basis of safety first".
The construction of the House has begun and is to be completed next March.  We will still need to recruit volunteers, continue to collect more donations, and make preparations for the opening of the House and will do our best to create a warm and loving atmosphere in the House with cooperation of local people.