NEWS
Winning of University of Tokyo Shokumon Award
October 17, 2014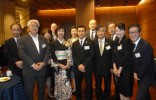 We have received "Shokumon Award from the University of Tokyo" in honor of our outstanding operations of the Ronald McDonald House Todai, and the ceremony was held on Tuesday, Oct. 7.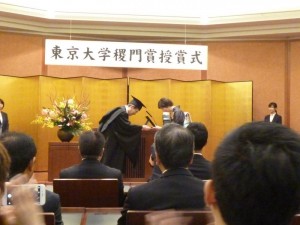 RMH Todai is available to families of children who are hospitalized in or outpatients of the University of Tokyo Hospital and their families, allowing them to stay for 1,000 yen per day, and about 600 families have stayed so far.  We have given the award as our organization's activities were evaluated highly because the operations of the House were supported by many volunteers.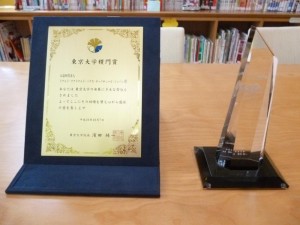 The ceremony was attended by University of Tokyo President Hamada and other members of the selection committee as well as our Executive Director and Chief Executive Director, House Manager and two people representing 219 volunteers.
After the ceremony, a reception was held and we were given the opportunity to deepen our ties with doctors and nurses at the University of Tokyo Hospital who have been providing us great support.  We would like to express our deepest appreciation for the University of Tokyo and the people who recommended our organization to this award and the volunteers who have given us tremendous support to the operations of the House.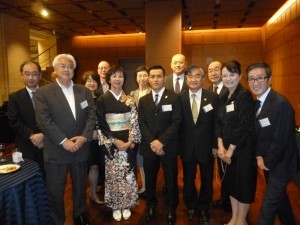 *University of Tokyo Shokumon Award: The University of Tokyo established a honoring system and has started presenting the University of Tokyo Shokumon Award to individuals, groups or companies that contributed greatly to the development of activities by the University of Tokyo through donations to volunteer activities and support, classes and R&D funded by companies, etc., to express our gratitude for their achievements since 2002.