NEWS
Yomiuri Giants players Yoshinobu Takahashi and Taishi Ohta visit RMH Todai.
December 10, 2014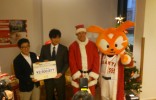 On Thursday, Dec. 4, Yomiuri Giants baseball players Yoshinobu Takahashi and Taishi Ohta paid a visit to RMH Todai.
Yomiuri Giants has been supporting us by donating 10,000 yen for every home run in regular season games in the Tokyo Dome and posting our donation box in Tokyo Dome, which started in fiscal 2013 and done again this fiscal year.  It also called on their fans to make donations and held a charity auction of Yomiuri Giants players' uniforms.  The donations collected from these activities totaled 2,500,877 yen, and Mr. Takahashi and Mr. Ohta visited the House to present us with a list of the donations, representing their team.
Mr. Takahashi and Mr. Ohta had prepared a big surprise.  Dressed as Santa Claus, Mr. Ohta handed out presents to every one of the children with a smile.  The presents were autographed uniform and stuffed toy Yomiuri Giants official mascot "Giabbit."
"I am glad I was able to come to the House before and after the season, and I hope to continue to hold charities," said Mr. Takahashi.  Mr. Ohta also made a heartening comment: "We younger players are determined to carry on the spirit of charity demonstrated by Mr. Takahashi, my senior."
We would like to thank Yomiuri Giants, Mr. Takahashi and Mr. Ohta for their cooperation and wish their continued success in the next regular season.