NEWS
Baseball player of Saitama Seibu Lions Takeya Nakamura made his third visit to RMH Setagaya.
January 06, 2015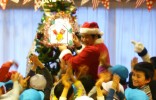 On Monday, December 22, Takeya Nakamura, a baseball player of Saitama Seibu Lions (aka "Okawari-kun," or Mr. Refill in English,) and Lions' official mascot "Leo" visited RMH Setagaya.
Children wrote their wishes on ornaments with the baseball player and decorated a Christmas tree with them.  The wishes of the child patients and their families included "I want to be a doctor," "wish to recover (my) health" and "wish to go home soon."
Nakamura, who dressed as Santa Clause, gave the children stuffed Leo's and cards with his autograph as a gift.
This is the third time for him to visit the Setagaya House.  He also attended the opening ceremony of the RMH Todai and continues his support for the Houses.
We would like to express our gratitude to him and wish him greater success!